Raising Cattle
with a Purpose
JM Cattle's branded beef is part of a 5th generation North Texas cattle operation. All cattle are conceived, born, and raised on Jarrod Montford's operation. JM Cattle are grass fed and grain finished, and once ready they are sent to Tarleton State University for processing.
Jarrod walked away from college with the realization that the quickest way to give back to his Alma Mater was to feed steers for Tarleton's Invitational Meats Judging Contest, thus allowing Tarleton students to process JM Cattle.
Occasionally, TSU needs a practice steer for the students to learn on. The goal for this steer is to be processed into ground beef, but prior to this, students can learn and explore the various wholesale and retail cuts. If by doing so, they cut into an expensive steak incorrectly, it now becomes an educational process, instead of a loss to the processor.
JM Beef is proud to say they raise cattle with a purpose beyond feeding the public.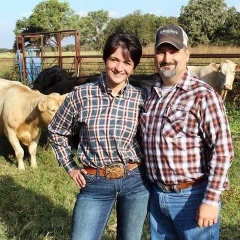 "Our beef provides educational opportunities to the students at Tarleton State University and helps them grow in their passion for beef."
Fill out the form below and we will contact you to work out the details for your beef order.
Once we have worked out the details of your order, we will send a link with payment options to make your deposit and reserve your beef.
We will schedule a time to go over the cut options and make sure everything is to your specifications.
You will be notified when your beef is ready for pick up at Tarleton State University!
If you'd like to start the process, please fill the form out below!
We will call you shortly after to discuss timeline & availability.
Got questions? Call us at (940) 389-3135
Quarter, Half and Whole Reservations
Here's the fine print:
$3200/whole
$1600/half
$800/quarter
* Prices do not include processing
All our steers are processed at Tarleton State University's Meat Lab, and when you pick up your beef you will have the pleasure of meeting the students who cut it. With your purchase from JM Beef, you become part of an educational circle that makes our beef more than just a meal. Customers will be responsible for the processing of the meat cuts at an estimated $0.80/lb at Tarleton.
Customers are responsible for picking up their beef from Tarleton State University